There are two opportunities this week to speak in favor of positive moves by VDOT and Fairfax County that will make walking and biking safer and more convenient.
---
Speak-up for Vienna Metro Bike/Ped Access Improvements
We have good news about VDOT! Their proposed Vienna Metro Bicycle and Pedestrian Improvement project is well-designed and will significantly improve safety and access to the Metro, Oakton High School, and surrounding area.
VDOT plans to redesign the overly-wide Country Creek Road and Virginia Center Boulevard to make room for people walking and biking to the Metro. They'll provide a 2-way cycle track and sidewalk without additional widening, and calm traffic in the process, making the road safer to cross. This section will also serve as a key off corridor segment of the planned I-66 Trail.
VDOT is holding a design public hearing on Nov. 17 at 7 pm where you can learn more about the project and ask questions directly to staff. Learn more about the project and how to join the design hearing here. You can use our advocacy form to quickly and easily submit comments.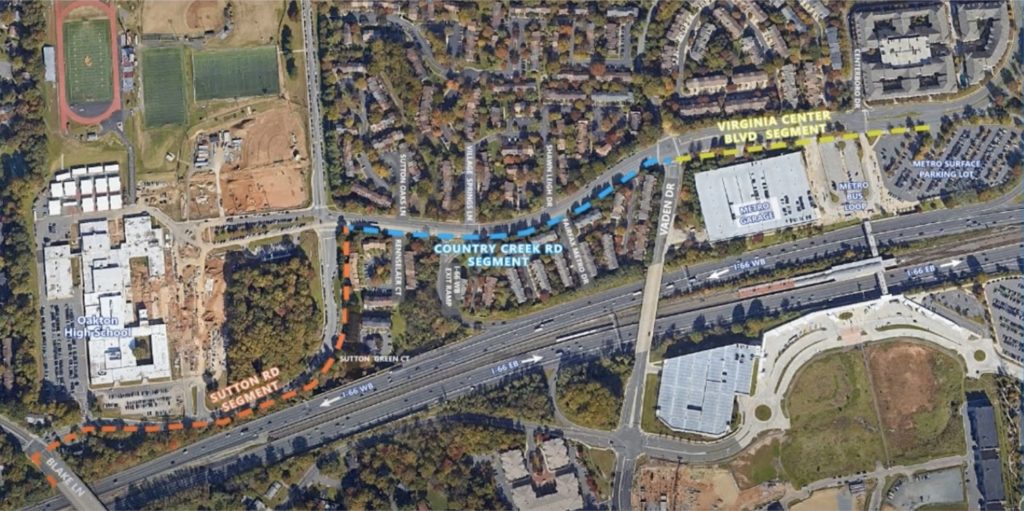 ---
Support Creating a Safe Streets for All Program
Fairfax County is developing a Safe Streets for All program that is packed with an impressive set of actions that will help make needed improvements happen faster and our streets safer. The County is currently seeking feedback on their draft program recommendations as well as specific safety concerns you, your family, and neighbors face. Let's make sure the County knows you support rapidly addressing the unsafe conditions we face today. Click here to read our talking points and submit comments today using our advocacy form.
The final community meeting is on Nov. 18 at 6:30 pm where you can learn more about the recommendations and express your concerns directly to staff. Check out the Safe Streets for All Program website for information on the plan and how to join the meeting. Public comments will be accepted through December 10th.
---