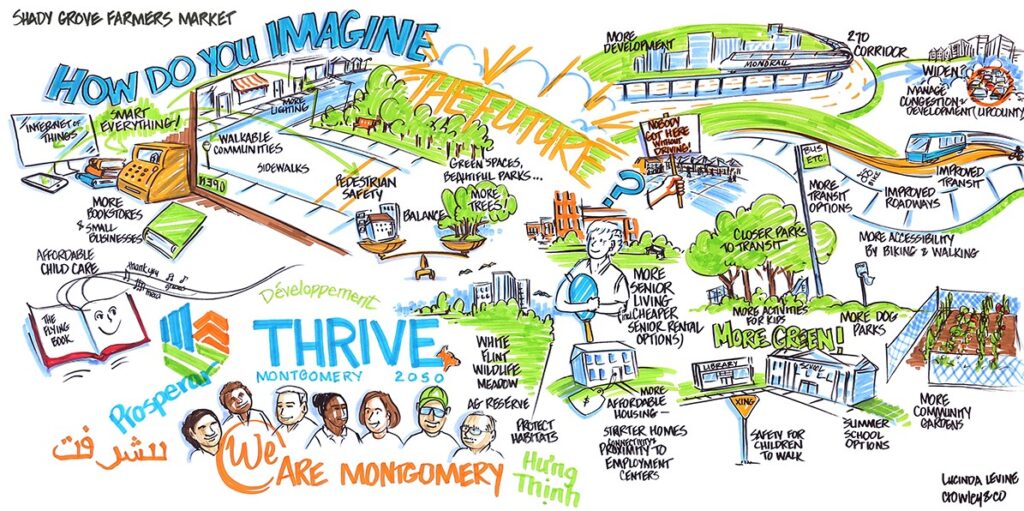 Thrive Montgomery 2050 will be a visionary, living document laying out how Montgomery County grow, as well as respond to future opportunities and challenges. Although the General Plan will not have legal authority, it lays the groundwork for all future Master Plans and implementing its goals and policy recommendations will guide the future policy agenda on housing, land use, and transit issues.
The Montgomery County Planning Board has reviewed the draft plan and transmits the new version to the County Council in early April 2021. We are strongly supportive of this version and urge the Council to support it. The County Council will have their own community input process and work sessions, resulting in a vote on the final plan in the end of 2021.
Resources
---
Get Involved: Join Montgomery for All!
---
Montgomery for All is a local grassroots group organized by the Coalition for Smarter Growth. We are advocating for a General Plan that paves the way for a more equitable, prosperous, and sustainable future. Our platform lays out ten goals that we want to see included in the General Plan. This includes putting new homes near transit, allowing for more housing options, protecting vulnerable communities, and building a world class transit network. Sign up to receive email updates about meetings, actions, and events! For more information, visit our website at https://www.montgomery4all.org.
Latest Happenings
---